4 Blind Mice!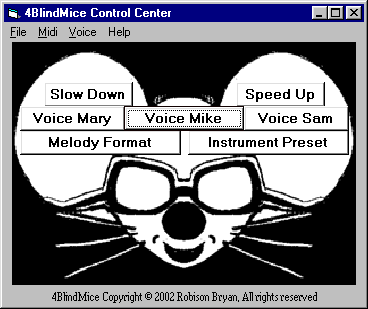 Installation of 4 Blind Mice onto Win98/Me/2000:
System Requirements:
Windows 95 or later.
To install on Win98 later you need Internet Explorer 5.0.1 or later.
(You probably got it from your ISP. Otherwise, get it at Microsoft.com. )
SAPI 4 or 5 TTS Engine.
(You can get SAPI5.1 by installing Saypad below.)
SoundBlaster Live or other such Multi Channel Sound Card.
(You can get SB Live for next to nothing at acnt.com)

This page installs 4BlindMice onto Win98/Me/2000
If you have Win98, ME or 2000 then ignore the next two lines and keep going..
If you have XP, Click Here instead.
If you have Win95, Click Here instead.

Instructions:
(I recommend that you save them to your hard drive, then launch them.)
1) Click here to install SayPad.
This will carefully put SAPI5.1 and SayPad onto your system.
2) Click here to install 4BlindMice.
(Or click here for a mirror download.)

You can save them both now then launch them later;
Just remember: first SayPad, Then 4BlindMice.
4) Once you're certain you just can't live without it,
you can register 4BlindMice for just $45
at: http://nstarsolutions.com/1406.htm

Enter and you will see a few products listed.
Please select 4BlindMice from the list.
5) Please update fairly often, keeping each previous version's install
package in a safe place first. Little things can get added and fixed.

Attention human: Although I am manually placing keywords here, please be assured that my site's more detailed pages do contain these words, their alternate spellings or synonymns, and that these words do truly represent the content of my site.
The following is a list of keywords that describe the nature of this site: TTS, SAPI, Text to Audio, Audio, Mouse driven, real time, screen reader, 4 Blind Mice, mouse driver, 4BlindMice, 4BMice, 4BM, blind, mice, for the blind, visually impaired, Carols, Hymns, bells, Bell Tower, Hymns and Carols on Harmonious Bells, carilon, carrilon, carillon, carrillon, Holiday, grinchware, free download, chimes, chime, clock, clocktower, celebrate, clock tower, church steeple, church audio, outdoor speakers, clock strikes, entertainment, Christmas, church belltowers, church bell tower