Schools for the Visually Impaired
may obtain free licenses to
InspiredCode's
4BlindMice!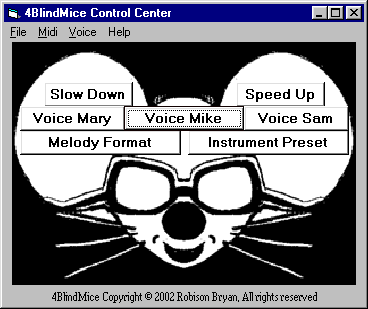 Do you run a School for the Visually Impaired? Do you work for one?
I'd like to outfit every computer your school owns with 4BlindMice!
Is this an act of generosity or some clever ploy to accelerate market
acceptance for 4BlindMice? You bet it is! Please take advantage of
my needs by providing for your own. Here's how:
(Despite appearances, this really is easier than sending off for a rebate...)
1) Make a list of every computer your school (and school's faculty) owns.
(Operating systems Win95, Win98, WinME, Win2K, WinXP;
you can try NT but I'm not promising anything.)
2) Download and install 4BlindMice onto each of those machines.
(If you have any difficulties please write to me immediately.)




Please NOTE: Your email to me is super important.
I'm tired of trying to find it under a ton of spam.
So if you write to me, please put my first name in the letter
or else your email will not be delivered to me!

Thank you,
Robison Bryan


3) On each machine, run the program and click Registration.
Write down the demo code produced by 4BM on that machine.
(It will look something like: ABCDE-ZXYW.)
4) Make a list of those demo codes, along with a name you provide for
each machine. (The names can be anything, just so they're all different).
5) Email that list to me, along with a link pointing to your email address on
the school's website. If you cannot provide a link to your email address
on the school's website, then please provide a link pointing to the school's
phone number where I can call to verify your email address. Please note:
this offer can only be redeemed by school faculty. (If you are not school
faculty and your situation is exceptional, please write to me.)
6) Check your mail to find my reply containing all of the license codes!
I may not be here forever, and I may not be doing this forever, so please get
the goodies while the getting is good for the goodies gotten! Get it?
(Say that three times fast!)