Hello, and welcome to InspiredCode's
resources for the Visually Impaired.
Click Here for an exciting new Accessible Musical Tetris Game called Metris!
Click Here for a whole world of Accessible Games!
I am very excited to present two programs
that may change the way you see your computer.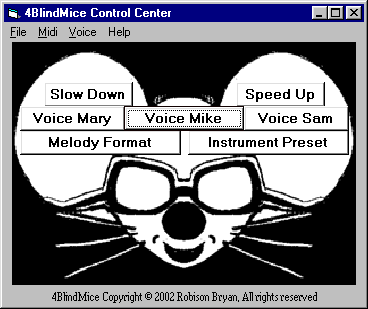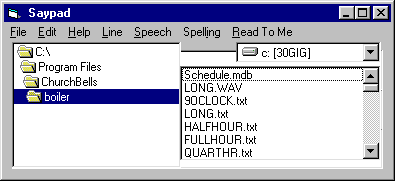 Special Note: Before windows came along most folks never thought of wanting
or needing a graphic user interface. Just like the taste of chocolate, it is
impossible to know what one has been missing unless one tries it. Please
take the time to share 4BlindMice with someone who would benefit from it
I truly believe they will thank you.
Schools for the Visually Impaired: Click here for free licensing.
"4 Blind Mice" (PADXML)(shareware) Now Only $45
4BlindMice is a mouse-driven real-time screen-reader designed to work with your existing screen reader program. Most screen readers treat Windows like a big list. I think your mind's eye doesn't get the respect it deserves. Some run their hands over things, some run their eyes over things. It's the brain that puts it all together. How would you like to run your hands over your computer screen and get the big picture? How would you like to drive your mouse full speed across the screen, knowing as you go where you are and what you're flying over? Crazy? Impossible? It's here. There are keyboard shortcuts and there are mouse shortcuts. You've mastered the keyboard ones. As you mind maps your desktop and favorite programs you'll be well on your way to taking advantage of the mouse shortcuts, graphically navigating and manipulating windows in real time.
WinXP Installation: Please click here to install 4 Blind Mice onto WinXP!
Win95 Installation: Please click here to install 4 Blind Mice onto Win95!
Win98/Me/2000 Installation: Please click here to install 4 Blind Mice onto 98/Me/2k!
NOTE:
All accessibility products can have interaction issues, but 4BlindMice is self healing. If the rare event of a glitch, please run it again so it can learn to avoid any traps. It should have itself running smooth as silk in no time.

"SayPad" (PADXML)(freeware)
SayPad is a freeware talking text editor that can read you a good book or help you write one, using the latest speech technology. It carefully installs the SAPI 5.1 Text To Speech engine from a compact 8.2 megabyte download. This is a quick and painless way to get the SAPI5 TTS onto your system, plus it does cool things like read to you with natural phrasing as a person would. You can fit huge files into it like the whole Bible for instance, which you can prove by downloading it below. (In fact it has a filter you can turn on that skips over verse numbers to let you hear it like a story.) SayPad can now convert Text to Audio, even a whole book in one run, splitting off chapters into separate, well named Audio files you can burn onto a CD.




Win98/Me/2000 Installation: Please click here to install SayPad onto 98/Me/2k.
WinXP Installation: Please click here to install SayPad onto XP.
Please note: the XP download installs the Sapi5.1 Mike and Mary
voices into the existing XP Sapi5 infrastructure. If you don't want
to add Sapi5 voices to XP, use this smaller install.
(Sorry no SayPad for 95 yet)

Improvements can be made from time to time;
Please click here to update any SayPad to the latest version.
(this smaller version requires SAPI5 already in place).

SayPad is Freeware.
If you like it, please let people know about it.
: )

Many, many thanks to Don Coco ("DJC")
for patient help, great encouragement,
and great music.

Hear this software reviewed on



on the Main Menu Program


(Click here for the King James Bible as one big text file.)
(Improved Book Title Announcement 4/30/02)

(Click here for a Modern English Bible as one big text file.)

Click here to email InspiredCode.






Please NOTE: Your email to me is super important.
I'm tired of trying to find it under a ton of spam.
So if you write to me, please put my first name in the letter
or else your email will not be delivered to me!

Thank you,
Robison Bryan

Click Here for many Free books to read in SayPad



Click here for Bible Software ...

...and here for a good Christian Internet directory.



Important Notice: If this and other software interfere with each other in any way,
please let me know right away so I can work on it! Despite all disclaimers,
it is my desire that it be of significant benefit to you and serve you well.
I have not been able to test it with all other software on the market,
so your input will help tremendously in its maturing process.



Another Important Notice: The software on this page uses your soundcard
to talk and sing. If you have other programs that talk and play MIDI
notes, you'll want to make sure you have a "Multi-Channel"
soundcard such as the SoundBlaster Live. You can get
one for about 30 dollars at places like acnt.com.
(Otherwise the speech would "take turns")




If for any reason SayPad refuses to install the SAPI5 on your system,
and if you want to be daring, you can try installing your SAPI5
from another site. You can click here for that.
(I am not affiliated with them in any way).
Have you ever wished you could write a Fantasy Text Adventure Game?
Attention human: Although I am manually placing keywords here, please be assured that my site's more detailed pages do contain these words, their alternate spellings or synonymns, and that these words do truly represent the content of my site.
The following is a list of keywords that describe the nature of this site: TTS, SAPI, Text to Audio, Audio, Mouse driven, real time, screen reader, 4 Blind Mice, mouse driver, 4BlindMice, 4BMice, 4BM, blind, mice, for the blind, visually impaired, Carols, Hymns, bells, Bell Tower, Hymns and Carols on Harmonious Bells, carilon, carrilon, carillon, carrillon, Holiday, grinchware, free download, chimes, chime, clock, clocktower, entertainment, clock tower, church steeple, church audio, outdoor speakers, clock strikes, celebrate, Christmas, church belltowers, church bell tower